County Education Board Hears From Camino School District
2016-01-25, 05:49:20 PLACERVILLE CA
 Camino Union School District students joined Assistant Principal and Charter School Administrator Boyd Holler and presented to the County Board of Education on Tuesday, January 5. The presentations featured the innovative and engaging programs taught at the Camino Science and Natural Resources Charter School.
Several eighth grade students spoke about various methods of recycling e-waste and highlighted a comprehensive robotics program, complete with demonstrations. "These are programs we are truly passionate about," Mr. Holler expressed. "It's energizing to see how thoughtful students become when given a practical challenge. There is something for everyone in these classes."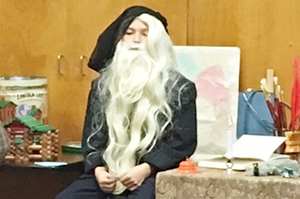 A dozen third and fourth grade students and teachers also assembled and presented a scientific wax museum for Board Trustees to witness. Dressed the part and standing perfectly still at their decorated stations, students gave brief overviews of contributions made by historical figures such as Nikola Tesla and Galileo.
The Camino Union School District is home to Camino Elementary School and Camino Science, Natural Resources Charter School, serving students in grades K-8. Several EDCOE supported programs are also available onsite, including a comprehensive Extended Day program, Winnie Wakeley Special Education, and the early childcare programs of Head Start and Early Head Start.
Educators join with the community to provide a high-quality, standards-based education for all students, preparing them academically, socially and emotionally for success in high school. 
Bookmark/Search this post with